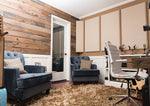 Your Biggest Questions on Noise.less panels—answered!
So you've read our articles on noise pollution and the negative effects it can have on your home. You're convinced that sound treatment can help create a conducive learning and work environment, and you're willing to set aside a budget for it. But where exactly should you start?
The world of acoustic panels can seem confusing at first, but your friendly team at Noise.less is here to guide you through it. In this article, we'll go through some of our most common questions from customers who are just starting with their home's sound treatment. 
Before we get into that, let's briefly review the basics of room acoustics. 
Sound Simplified
Picture a red rubber ball. Toss it in an empty room and watch it bounce frantically from one wall to the next. If we could see the movement of sound, it would be close to this image.
Sound behaves like a rubber ball. When released within a room, it bounces off the walls. This means we don't only hear sound directly from its source but also indirectly from the walls as reflected sound. When combined, direct and reflected sound produce noise that's louder than it actually is.
A way for people to reduce the bouncing of sound is through acoustic panels. These panels absorb reflected sound, acting like an open window for these "rubber balls" to shoot through. If you need more visualization, we recommend watching this fun video on sound acoustics by Acoustic Geometry.
Acoustic Panels for Homes
When most people think of acoustic panels, they probably imagine a fancy recording studio. They're not wrong, of course. The way acoustic panels reduce unnecessary sound makes them an indispensable tool in recording clear and crisp musical performances.
But acoustic panels aren't just useful in a recording studio. They've been used in libraries, conference rooms, and call-centers because of the way they foster a non-disruptive room ambiance—perfect for concentration and clear communication. If acoustic panels work well in these places, they'll work well in your own home too.
Noise.less FAQs
This is where we come in. Here at Noise.less, we offer top-quality acoustic panels that can significantly reduce the unnecessary reverberations in any room.
For those interested in our services, here are answers to some of the most frequently asked questions we get:
How much are your panels?
We sell different types of panels and room kits, each with their own properties and corresponding prices. You can buy a single panel for as low as ₱1,900. Visit our shop to explore all your different choices!
What is the status of current stocks?
We currently have stock of all the items listed here on the website.
How do I determine how many panels to install in my room?
There are three things we need when determining the quantity and arrangement of panels:
The approximate size of the space where you'd want acoustic treatment 

The floor to ceiling height

Photos and/or sketched drawings of your space's layout
For a minimal ocular fee, you may also set an appointment with our team to have your space examined. But generally, our room kits provide good coverage for varying rooms, depending on the area size (square meters). Most standard condo rooms and living areas in houses are up to 9 sqm. 
How many days to deliver the panels?
We'll deliver the panels in one week within Metro Manila. Free delivery for a minimum purchase of Php 5,000.
What do I do if I have windows? How can Noise.less help?
It's true that glass can reflect sound. Normally, our panels and room kits should be enough to control problematic reverberations in rooms that have glass. But for special cases where glass is truly an issue, our sister company, EMPI, can offer window treatment solutions.
What is the best room treatment for condominiums?
Our room kits are great for any kind of room, whether it's within a house or a condominium space. 
How do I install the panels?
Our panels hang like a normal picture frame on your wall. They use a series of impalers that provide simple and quick installation which avoids serious defacement on your walls. Along with these impalers, our room kits come with their own wall anchors, screws, and drill bits. We'd also be happy to assist you in installing your new panels in your space, with a special installation fee added to your total purchase.
Have we answered all your questions? Drop us a message to start your home acoustic treatment experience today!