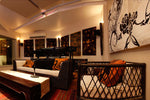 Our home is one of the most significant contributors to your family's well-being. That's why we invest so much time and energy in making it a place of safety and comfort.
But many of us overlook a distinct kind of pollution that potentially threatens our family everyday: Noise.
Even if you live far away from road traffic, aircrafts, and railways, Noise as an environmental hazard can still fill your homes and harm your loved ones. Noise can come from seemingly innocent sources like TV sets, radios and music players, telephones, blenders, and even children's toys. Oftentimes, these sounds compete with one another and force us to talk over them, which only contributes to even more noise. It's a truly vicious cycle.
We need to be more conscious of the noise pollution in our homes and take action before it's too late. Here's what noise can do to your family if left untreated:
1) It can increase the risk of heart disease
They say home is where the heart is. But how safe exactly is your heart at home? 
There are extensive studies on the relation between environmental noise and our cardiovascular system. These studies support the idea that long exposure to noise leads to mental health problems like stress, depression, and anxiety, which lead to the development of coronary artery disease, arterial hypertension, stroke, and heart failure. 
According to the World Health Organization (WHO), the top two leading causes of death from the environment is stroke and coronary artery disease respectively. If you want to lower these risks for you and your family, it's time to take noise more seriously.
2) It can easily affect your children
Experts like WHO and the US Environmental Protection Agency explain that children are especially vulnerable to noise because of their exploratory behavior and their inability to control their environment. Children are at high risk of noise's lifelong effects because they are at critical stages in their physical and psychological development. 
Aside from hearing impairment and cardiovascular risks, other possible effects of noise on the following age groups include:
Fetuses

-

Growth retardation

.

Infants

- Sleep disturbance and distress.  

School-aged children

- Cognitive impairment in reading, speech and language, long-term memory, and attention and motivation.
Teenagers are most especially at risk since their culture is heavily associated with noise (loud music, video games, musical instruments, etc.). According to WHO, there has been an increased rate of adolescent hearing impairment in the last three decades.
3) It can invade your sleep
In our previous article, we mentioned how long exposure to sounds above 70–85 dB are harmful to our ears. While this applies anytime, WHO recommends more careful measures during sleep. 
For proper sleep, night noise levels should be 40 dB and below. Sleepers exposed to noise beyond that can easily suffer sleep disturbance and insomnia. This can lead to elevated blood pressure and heart disease.
Even if you don't wake from noise, you're still at risk. Experts say that our ears still pick up sounds for our brain to interpret even when we're asleep. Even if we're not aware of the night noises, our bodies still react to them. "It appears that continual noise sets off the body's acute stress response, which raises blood pressure and heart rate, potentially mobilizing a state of hyperarousal. It is this response that can lead to cardiovascular disease and other health issues."
Safe and Sound
When we allow noise to go unchecked, home ceases to be a place of safety and comfort. 
But it's not too late to protect your family. Investing in proper acoustic treatment is an ideal step towards a healthier sounding home.
There are noises that don't have to be as loud as they are. When rooms have untreated acoustics, they can amplify sounds, making the ringing telephone, or even our voices, more disruptive. This is because sound bounces off the walls like a rubber ball. We don't only hear sound directly from its source, but also indirectly from the walls as reflected sound. The combination of direct and reflected sound is what makes noise in a room louder, posing more risks to your family's health. 
Noiseless offers many options for you to manage these noises at home. For those who are new to acoustic treatment, we highly recommend our easy-to-install London Room Kits. They come with all the necessary hardware including wall anchors, screws, and a drill bit. Panels are mounted using impalers that eliminate the use of wall-damaging glue. You can even paint them to color-match your room without disturbing their acoustic properties!
The London 8 is our starter kit for rooms up to 9 square meters. If you need to treat a bigger area, the London 10 is perfect for rooms up to 12 square meters. You may also choose to buy panels separately.
SPECIFICATIONS

LONDON 8

LONDON 10

Price

PHP 17,571.24

PHP 38,199.24

For Room Size

Up to 100 ft2 (10 m2)

up to 150 ft2 (15 m2)

Surface Coverage

20 ft2 (1.85 m2)

44  ft2 (4.1 m2)

Color

Black, Beige, Grey, or Absolute White (Paintable)

Recycled Content

Up to 40%

LEED Eligible

Yes
ABSORPTION CHARACTERISTICS

PANEL DEPTH

125Hz

250Hz

500Hz

1kHz

2kHz

4kHz

LONDON 8

1" (25mm) Depth

0.17

0.28

0.81

1.00

1.02

0.95

1.5" (38mm) Depth

0.31

0.56

1.01

1.00

1.01

1.00

LONDON 10

1" (25mm) Depth

0.17

0.28

0.81

1.00

1.02

0.95

2" (50mm) Depth

0.45

0.83

1.07

1.00

1.01

1.00
We want to help you make your home sound like a safe haven to come home to. Come explore our wide selection of noise-reduction interiors. Keep your family safe from noise pollution today.