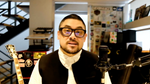 Mike Constantino is the founder and CEO of Homonym, the premier music solutions agency in the Philippines. In 2019, together with the NCCA, he founded Sonik Philippines, the country's official music business conference. A key figure in the local and regional music industry for decades, Mike is an in-demand international speaker, subject matter expert, consultant and was a Director of the Internet & Mobile Marketing Association of the Philippines (IMMAP) from 2013-2019. 
On the music front, Mike has been a  professional DJ since the early 2000s and is a 2-time Awit Award-winning singer and songwriter for his work with his independent Soul band, Conscious & The Goodness. 
1. How have things been for you as a creator / creative since the lockdown? What have you been working on?
Since there are no gigs, I've been busy running our music agency, helping other artists and creators earn during these unprecedented times. As a creator, our band, Conscious & The Goodness released our latest single "Buhay Ay Langit" (which I wrote) earlier this year. We are working on 3 other songs right now - collaborating with producers/beatmakers - to hopefully release this year.
2. Are there any new things you would like to try out or start working on this year? 
For sure! I've never had voice lessons before so I enrolled with a friend of mine to hone my vocal skills (e.g., scatting, runs). Also enrolled in a guitar course online as it's been a dream of mine to be able to play live with my band. I also am learning Logic Pro X to help with the music we're working on. Aside from that, I've just been writing songs and poems and will launch a podcast with our Homonym team soon.
3. Tell us about your work / creative space. What is your current set-up like at home? 
I converted my old DJ loft into my workspace, which developed over time as I realized that the pandemic wasn't going to end any time soon. Thing is, my DJ loft is open on 2 sides because I used to DJ for guests downstairs - that setup allowed them to see and hear me (and of course, for me to vibe with them as well). Now that it's my home office, I converted the table into a work desk and set it up so I have all my work stuff easily within reach. BUT, since it's open, I (and the people I Zoom with) can hear aaaaall the noise from people around the house - plus the occasional cameo from my son during calls. And, I can't really record or make too much noise (well, that and we have a newborn, haha).
4. What are the challenges that you've encountered or still experiencing with your current space and set-up? 
As mentioned, since my space is open, I can hear everything going on and everyone can hear what I'm saying when they're in the living room area. I have to soften my voice at times if topics are sensitive, and I can't record when I need to sing, have interviews or presentations - for these wherein I need to project my voice, I use my son's room as it's enclosed and do my thing after everyone sleeps. If I have a live interview or session during the day, people here have learned to just live with it, hahaha.
5. Given the chance, how would you like to set-up your space? 
I've spoken to my wife about enclosing my space, with the option to open and close it as needed for when we can have guests over again. I will definitely need to sound proof and treat the room so my setup (which I bought, envisioning putting up a home studio someday) will work optimally. As long as I can make noise (playing records, making beats, singing/rapping loud), that space will be the ideal cave for me.
AcousTip: If you are building your home studio or office, the London 10 Room Kit is the perfect place to start. The London 10 is designed for rooms up to 120 ft2 (12m2), or can be combined with other products to treat larger spaces. It contains select Broadway panels that tackle problems affecting any room, such as primary reflections, flutter echo, and standing waves. In addition to acoustic panels, each London 10 room kit includes the corresponding mounting hardware and instructions for easy installation.

Broadway panels are made from high-density 6lb per cubic foot (96 kg/m³) fiberglass, offering nearly five times greater absorption than typical low cost foam alternatives. This means that you get more absorption with less panels, while assuring an even absorption curve throughout the frequency range. 

6. What Noiseless product do you think will greatly help with your current set-up at home right now? 
A London 10 Kit for my room plus a couple of bass traps for the enclosed part of the wall would be amazing!
Follow Mike on Instagram (@mikecons) and check out his band, Conscious & the Goodness on Facebook and Instagram.