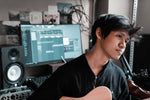 Asch Tom Neral Catabona, also known as Asch, is a producer, beat maker, and songwriter based in Manila, Philippines. He started creating music in 2015 and was able to release his first successful collaboration, Some Kind of Magic, with Clara Benin, followed by "Idk" with Renee Dominique. He released his first electronic instrumental ep, For Two, back in 2016, and followed up with an experimental jazz-fusion album, Mobius, in 2018. 
Asch has played in various music festivals like Wanderland, Malasimbo, and Karpos Live and has garnered a niche of listeners.
1. How have things been for you as a creator / creative since the lockdown? What have you been working on?

I think most of us, including me, had it difficult because of this pandemic. Creative wise, at the start of the pandemic, I was hoping that the lockdown, and the spread of the virus, would end immediately, then everything got worse from there. I had a hard time making music, from planning, to making things happen, all the things I had to do were pretty much improvised. But there's a certain flow to working things out during a pandemic like this. I got the hang of it eventually. It sucks, but I can do my work.
2. Are there any new things you would like to try out or start working on this year?

I really want to try recording my own samples now. I've been seeing a lot of producers just pulling out random percussive objects and making it their own sounds to own, and sell. It's really interesting, right now I really want a drum kit, and a bunch of other percussion instruments I can tune to my own liking, and record samples with.
3. Tell us about your work and creative space. What is your current set-up like at home? 

My setup at home is mediocre at best. I have 2 Yamaha HS5 (which were generously donated by my good friend Jave Maceda) for monitoring audio, and 2 display monitors for music production. My room, which is also my studio, is not acoustically treated. My windows are big, and you can hear all sorts of stuff. A lot of people would say it's not ideal to make music in an environment like this, but I beg to differ. Heck, I don't even have a door for privacy. Most of my audio recordings are midi, so it doesn't matter if it's noisy outside, but when I need to record vocals, I mostly do them at night when everyone is quiet. 
4. Given the chance, how would you like to set-up your space?

I wish to have better seaming for my windows, since it's a 2 way sliding window, it's hard to block the noise coming from outside. I would also need some acoustic foam dampeners so the sound doesn't bounce around my room, and of course a door. 





AcousTip: Instead of using foam, try using the 

Noiseless Broadway Panels

, our high performance fabric covered acoustic panels. Made from high density 6lb per cubic foot (96 kg/m³) glass wool,

 

Broadway

 

panels have up to six times greater density than typical foam panels for balanced absorption throughout the audio listening range.
5. What Noiseless product do you think will greatly help with your current set-up at home right now? 

A VoxGuard DT would do the track for recording samples, and vocals. That would help me a lot with lessening the ambient noise around my room, and really capture all the transients I need for recording my own samples.