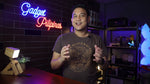 Gian Viterbo is a Filipino Technology Journalist, blogger and Editor of GadgetPilipinas.net, 

one of Philippines' top sources for news, tutorials, reviews and tips about the latest trends in technology, gadgets, social and digital media and cyberculture.

He is also the Managing Editor of 

One More Game PH, a 

resource for anything and everything gaming, featuring real stories and real gamers.
 He is a certified Geek, Dad and a Husband. He knows a lot about washing the dishes, doing some errands and following instructions from his boss on his day job. 
1. How have things been for you as a creator since the lockdown? What have you been working on?
The lockdown has pushed us to new boundaries. It's both a humbling and bittersweet experience, but it is - more than anything - a blessing in disguise. As a digital creator, it further affirmed my decision to grow holistically and to improve the small business I put up in 2016.
This so-called new normal made me realize how important it is to invest in things that will improve the quality of our production.
2. Are there any new things you would like to try out or start working on this year?
I started delegating roles to my colleagues in Gadget Pilipinas and One More Game. I passed my Chief Editor position to Emman so I can focus on creating and improving new media contents for Gadget Pilipinas, and grow the existing and new brands under Blip Media.
3. Tell us about your work / creative space. What is your current set-up like at home?
Blip Media, the duly registered corporation that owns our media brands, is headquartered in Cabanatuan City. Our studio, however, is located in Las Pinas City. It's a 16sqm small studio that espouses modern industrial design.
Due to the size of the studio, we have repurposed specific corners to be shot location options. We also added two rollable background colors on top of our studio entrance. Our editing rig is also inside the studio to optimize our production workflow.
As for basic YouTube production equipment, I use a Sony A7C as my primary camera, and Rode Wireless Go for my a-roll voice recording setup. For podcast and livestreaming, I use a Shure SM57b and Yamaha AG06 sound interface; and a Canon 70D. I also use an Elgato 4K60 S+ for capturing gameplay on both console and PC.
4. What are the challenges that you've encountered or still experiencing with your current space and set-up?
Our studio space is located on the first floor of our residential building. It is also beside a busy street so background noise is a nightmare to manage. We do not have proper sound isolation measures and we mainly manage it via sound editing at post.
It is also not sound treated so our videos have a high level of reverb and noise.
5. Given the chance, how would you like to set-up your space?
Given the chance and financials involved, I would like our space to be sound isolated and treated. I'm particularly looking at broadway panels and dampeners to easily block noise from the outside.
6. What Noiseless product do you think will greatly help with your current set-up at home right now?
I would first invest in 
Bass Trap
kits and
Broadway panels
. I am particularly interested with studio kits available at
Noiseless
 as these clearly match the dimensions of my studio.
Follow Gian on Twitter: @gianviterbo and @gadgetpilipinas.