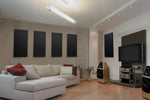 While many of us have grown desensitized to the intense sound levels of traffic, construction sites, and other outside elements, noise is still a major complaint in places where comfort and peace are more expected. 
For instance, Consumer Reports and Zagat's surveys reveal that noise in restaurants is the main complaint by diners, just above service quality, high prices, and parking. Noise is also a top complaint in hospitals, with beeping machines and overhead announcements bothering patients, staff, and visitors alike.
Noise pollution may be part and parcel of modernity, but many modern spaces are deciding not to be complacent. By investing in acoustic panels, establishments are able to lower their noise levels and achieve a satisfying difference.
We see no reason why homes shouldn't also invest in acoustic panels. After all, home should be our main place of comfort and peace. Like establishments, homes can reap the many benefits of proper sound treatment.
Here are three reasons why acoustic panels are ideal, not just for public places, but for your home as well:
1) It Protects your Family's Health
Noise is harmful. Sounds beyond 70–85 dB can damage our hearing; but sounds as low as 55 dB are enough to disturb our sleep, causing stress and the development of cardiovascular problems.
This is why some hospitals have begun investing in sound treatment. With strategically placed acoustic panels, one hospital was able to drop its sound levels from 60 dB to 57 dB. While the 3 dB drop is modest, it is still recognizable to the human ear—"consistent with a fall in noise generated by a car slowing down from 80 mph to 60 mph." With calmer and quieter hallways, patients can recover more easily.
Just like hospitals, home should be a safe place to recuperate. With noise left unchecked, we risk various health problems that can affect our loved ones. By investing in acoustic panels, we get the same peace that is sufficient for hospitals to heal their patients.
2) It Enhances Comfort and Quality Time 
Noise can disrupt conversations and ruin quality time with loved ones. 
Before one restaurant invested in proper sound treatment, diners almost had to shout to properly communicate with each other. But with Broadway Acoustic Panels, the restaurant reduced the noise, achieving the environment it envisioned for itself: a place for peaceful lunches, conducive business meetings, and splendid family bonding.
Quality time at home can suffer too without this same acoustic treatment. There are various home noises (barking dogs, ringing phones, loud music, etc.) that can disrupt our communication with loved ones. But when homes have acoustic panels, dining table jokes and living room conversations become clearer and more enjoyable. Even the quietest family member can be heard over the uncle's hearty laugh!
With proper sound treatment, bonding at home can be as fun and memorable as lunch outs at your family's favourite restaurant.
3) It Enlivens your Home
Aside from health and comfort, acoustic panels can offer a unique way to retouch your home. 
A number of our noise-reduction interiors here at Noiseless are paintable, like our Broadway panels. They can either color-match your decor or hang as striking artwork. With these panels, your rooms will sound as good as they look!
Our Broadway panels are easy to install, using impalers that minimize wall surface defacement. They can be bought separately, or as room kits.
PAINTABLES

DIMENSIONS

EDGE

PRICE

Panel 24" x 24" x 2"

Square

PHP 2,291.87

Panel 24" x 48" x 2"

Square

PHP 4,201.75

Panel 24" x 24" x 2"

Beveled

PHP 2,482.87

Panel 12" x 48" x 2"

Beveled

PHP 2,482.87

Panel 24" x 48" x 2"

Beveled

PHP 4,583.75
SPECIFICATIONS

Color

Absolute White

Recycled Content

Up to 40%

LEED Eligible

Yes
ABSORPTION CHARACTERISTICS

125Hz

250Hz

500Hz

1kHz

2kHz

4kHz

NRC

Unpainted

0.32

0.87

1.11

1.04

0.96

0.96

1.00

Rolled Paint

0.74

0.58

0.66

0.45

0.25

0.17

0.50

Light Spray Paint

0.48

0.89

1.12

1.10

1.00

0.92

1.05

Heavy Spray Paint

0.65

0.80

0.93

0.78

0.65

0.58

0.79
Modern homes need to defend themselves from modern threats like noise pollution. Come explore our products, and see the many stylish ways to do so.