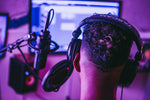 Noiseless' acoustic solutions can help bridge sound and space to improve your environment, and in order to further inspire you to continue pursuing your craft and passions with infinite possibilities.
You're in your room, your entertainment system or turntable on full blast. Listen. What do you hear? Are you experiencing the audio as intended--with sharp, crisp speech and striking sounds? Are you hearing every clink and scrape and screech in other parts of your home while you're working on your recordings or videoconferencing for work? Sound is actually a critical factor in how we enjoy or experience a space, yet it is often overlooked in designing a room.
Acoustic treatment is also one of the most misunderstood parts of building a home studio or entertainment room. Background music and normal speaking voice levels are desirable sounds, but noises that bounce off the high ceilings and hard surfaces need to be controlled. That's where acoustical treatment comes in: thoughtfully engineered and ideally--aesthetically designed ceiling, wall, and floor treatments to absorb noise and improve the sound of your space. The goal of acoustic treatment really, is to make your environment sound more neutral and sonically pleasing, whether you're recording music or a podcast, doing a Live Facebook event, or even simply enjoying some quality time at home with your family or loved ones in your media or music room.
As we move towards the trend of working safely from home, the need to better manage and control sound levels in your working spaces has come into focus. Especially with the rise of content creators, whether you're a seasoned one or just getting started, investing and equipping yourself with the appropriate tools will not only make your space conducive, and you in turn, more productive; it also creates the opportunity of allowing your creativity to be the focus. 
Improve Your Space and #InspirePossibilities With Noiseless
Noiseless is here to help you improve and elevate your space by providing top-notch acoustic solutions, to inspire you to create with endless possibilities. Are you ready to have a "conversation about how to address the acoustics of your spaces? Get in touch with us – we're listening.